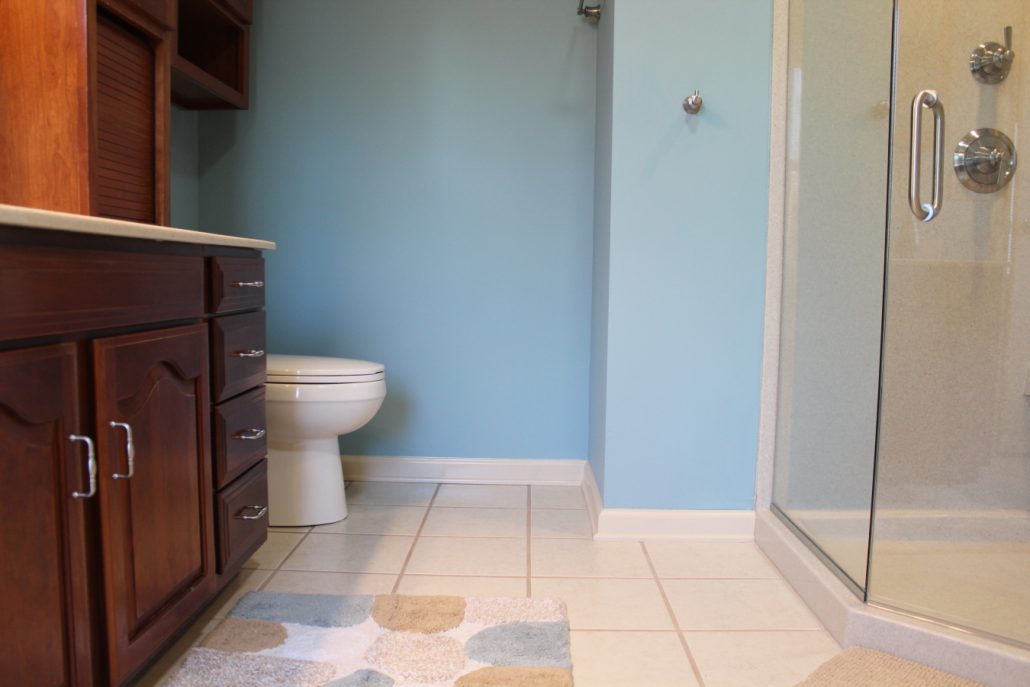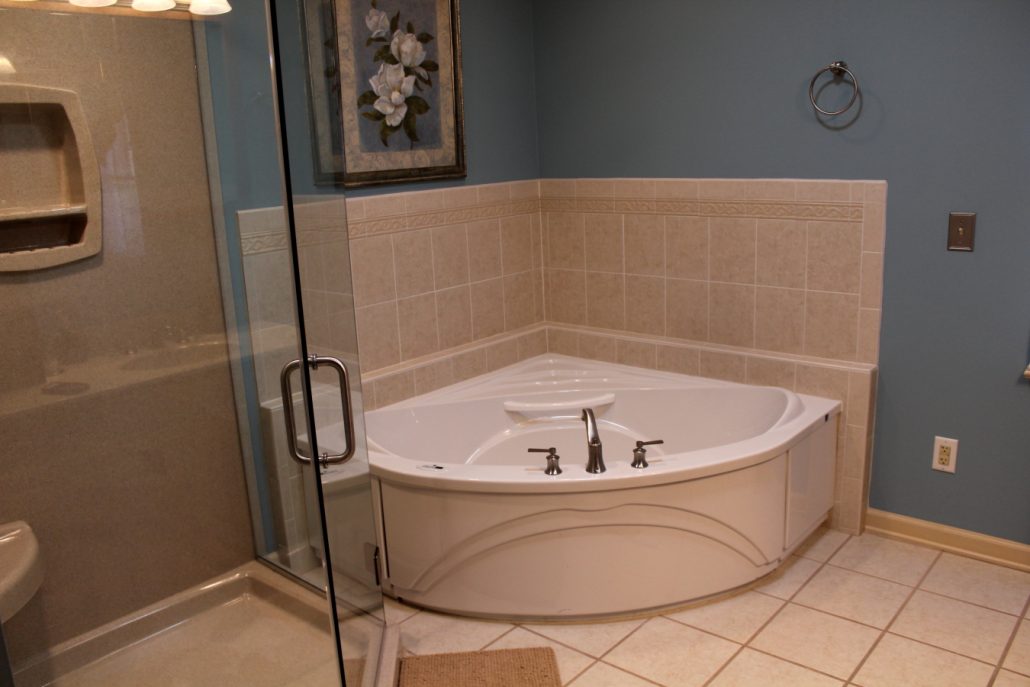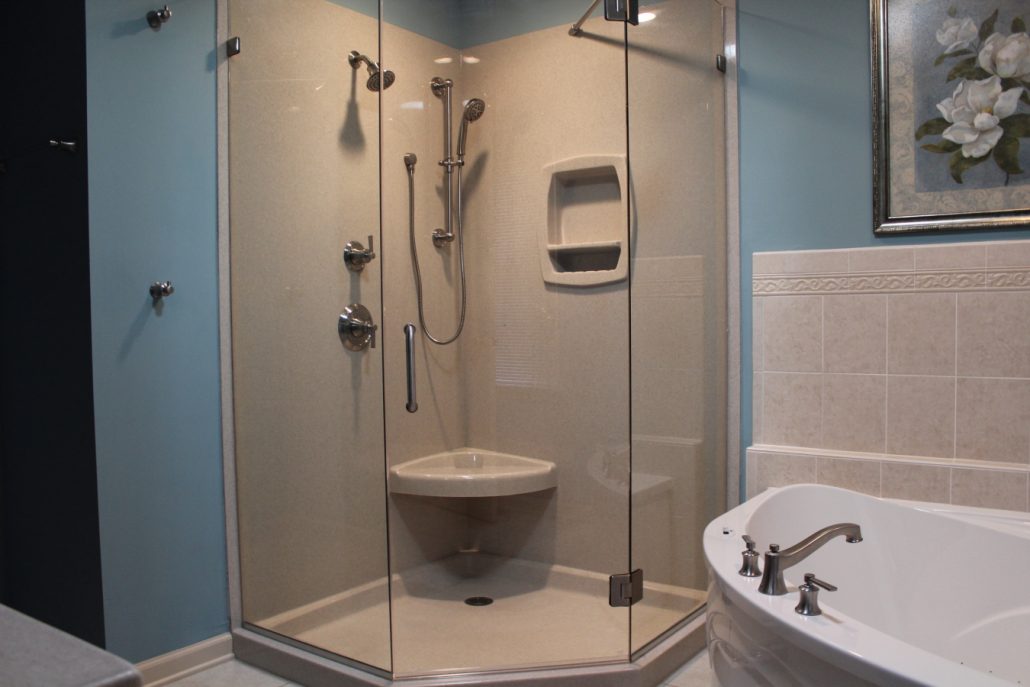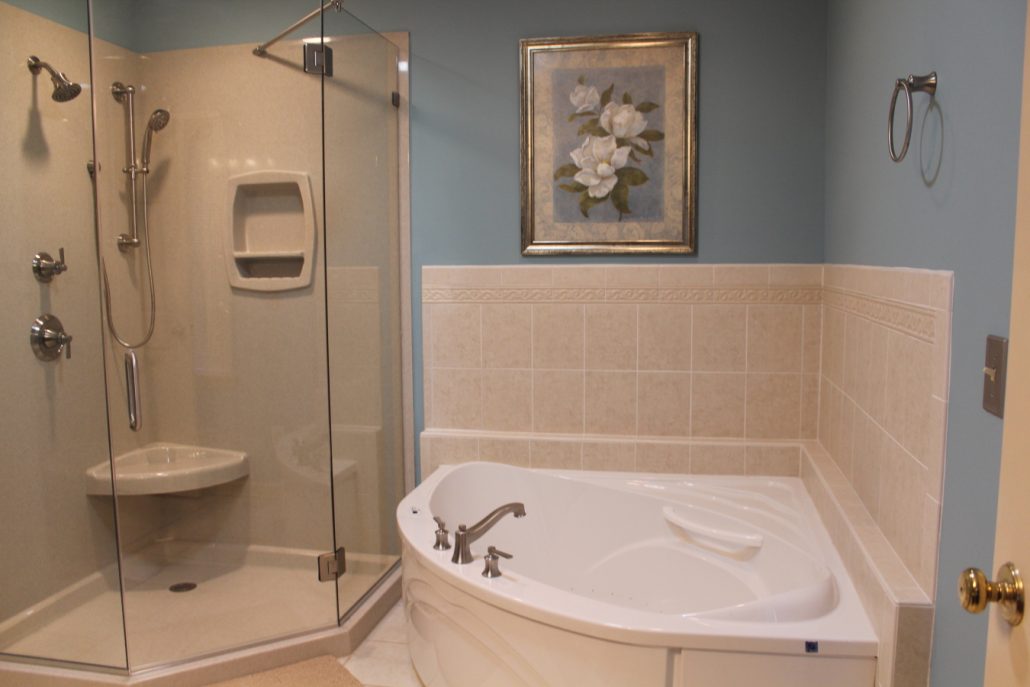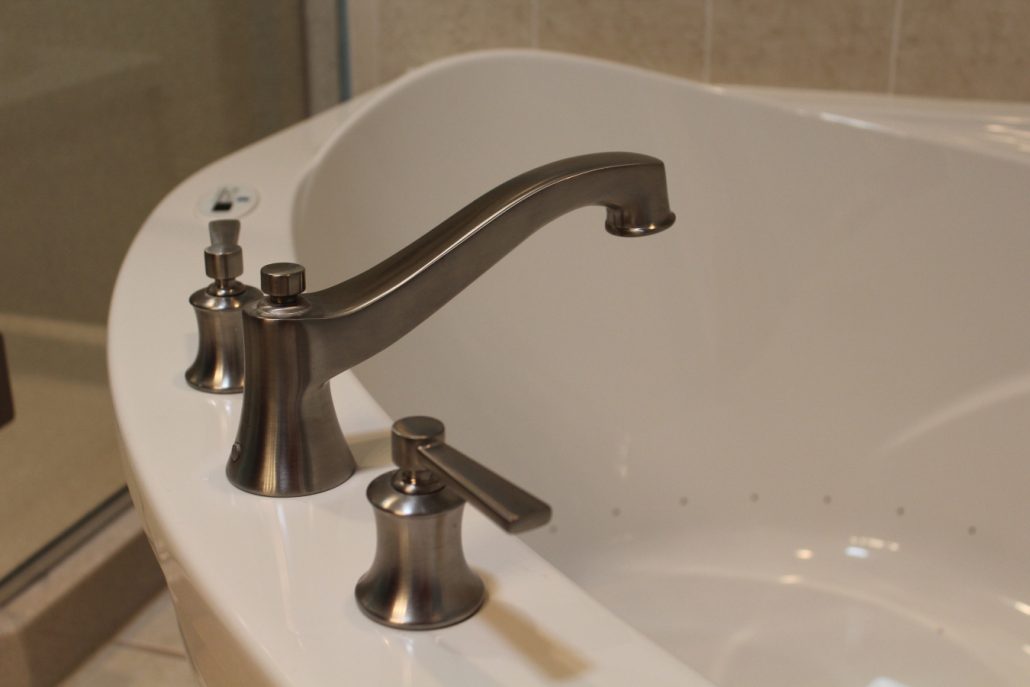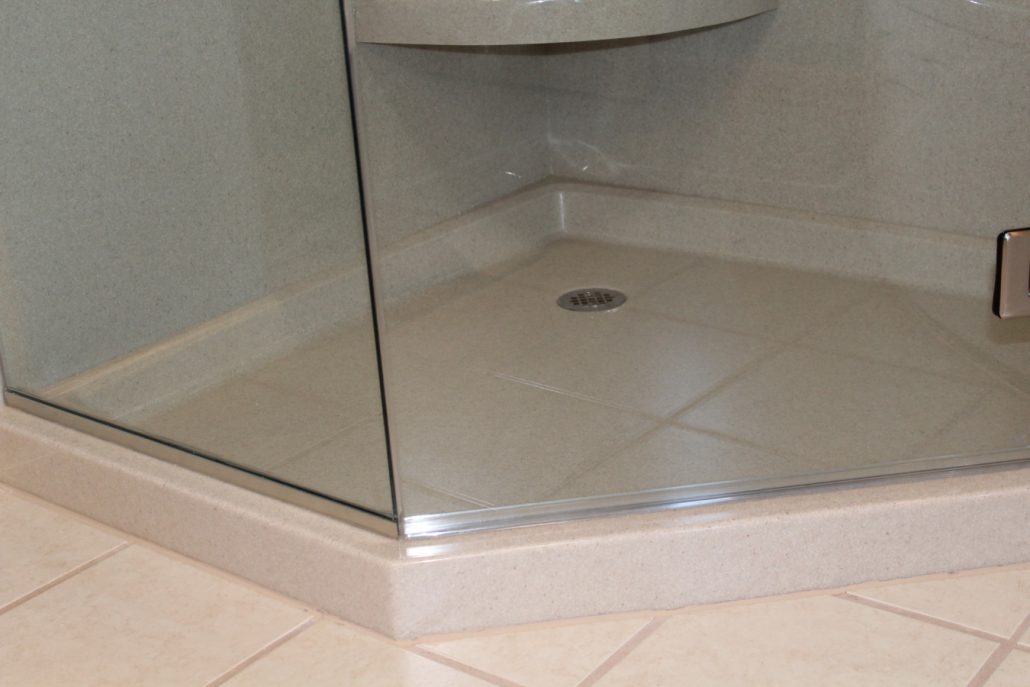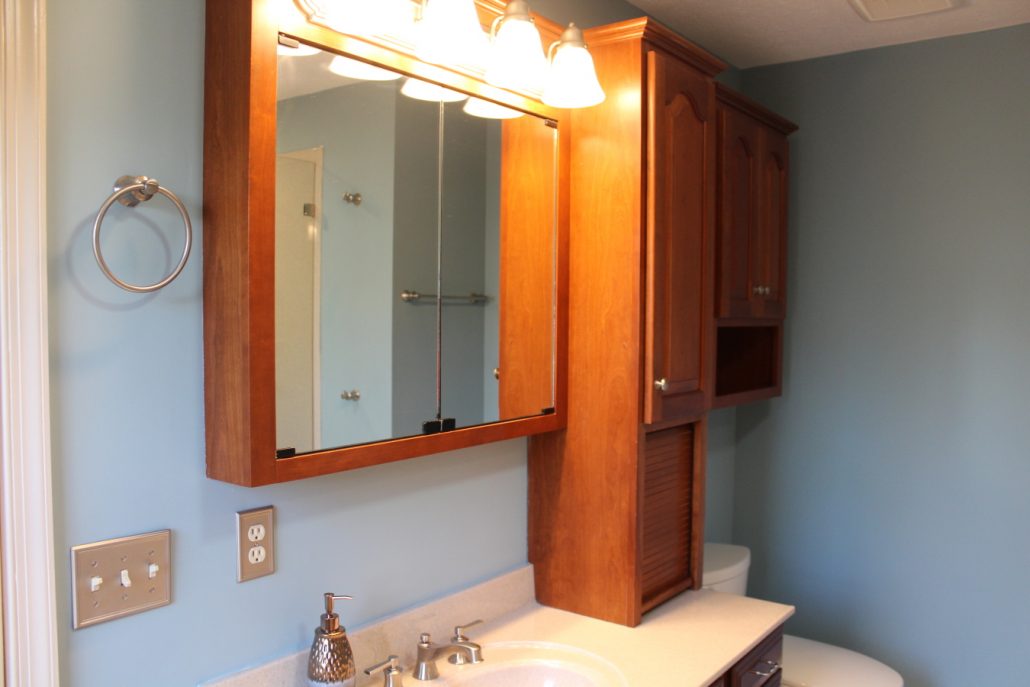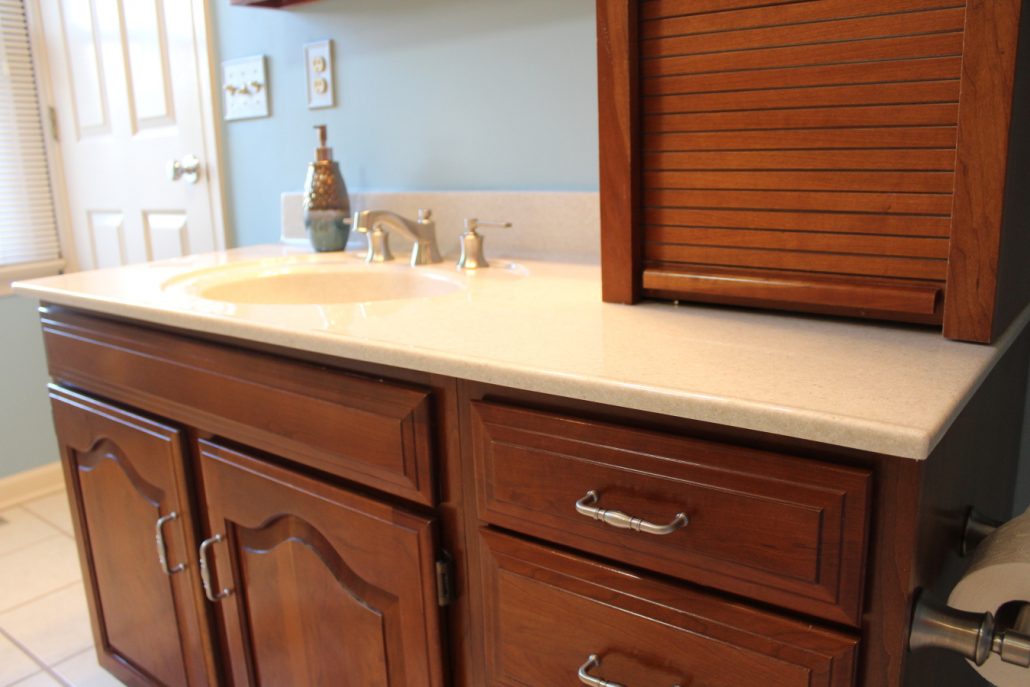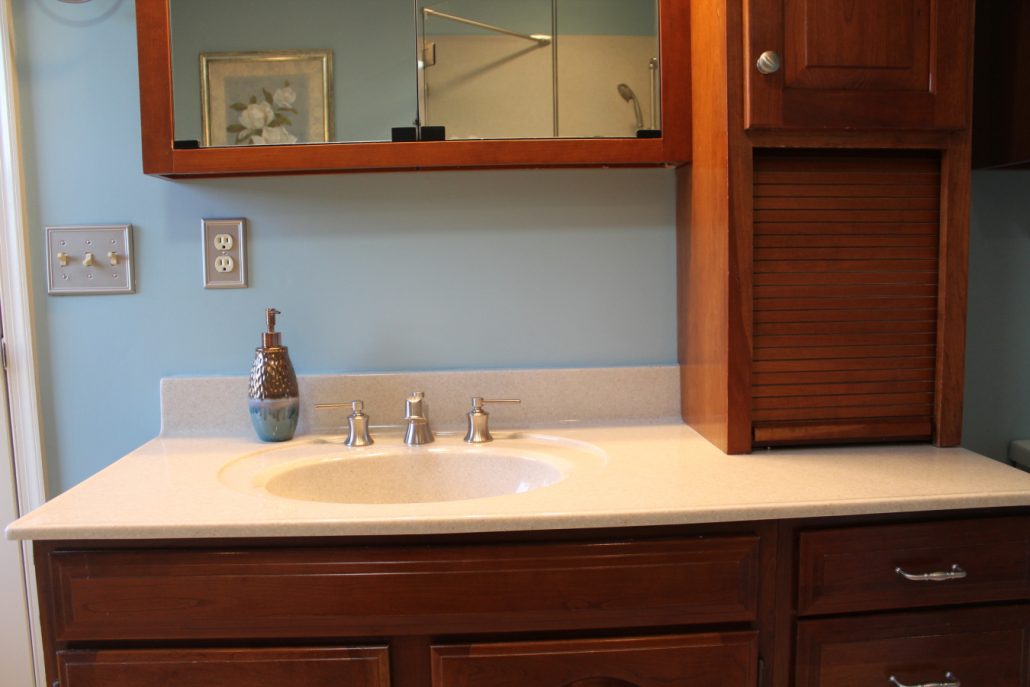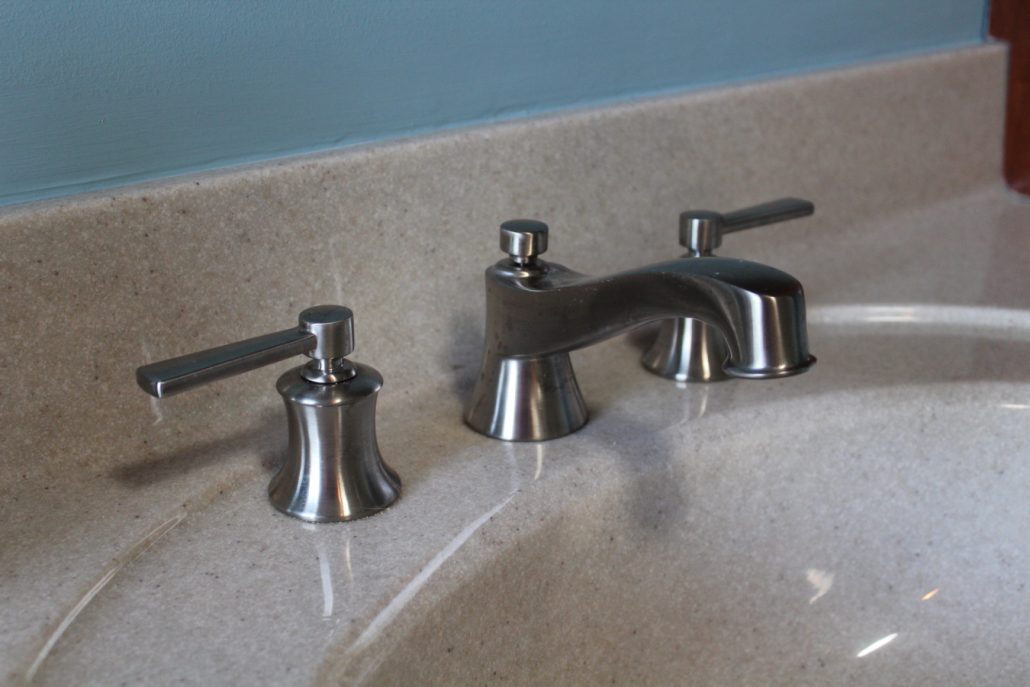 Project Details
Location: Bridgewater, VA
Services Performed: Two Bathroom Remodels:
Upstairs Bathroom Remodel, – Removed Existing Corner Shower Unit, Installed New Cultured Marble Surround Shower, Rerouted necessary Plumbing, Removed Existing Vanity Top and Installed New Vanity Top and Faucet, Replaced Light Fixtures and Tub Faucets, Installed New Toilet, Touched Up Wall Paint
Downstairs Bathroom Remodel – Replaced Flooring, Removed Existing Wallpaper, Painted Walls, Installed New Vanity Sink,
Project Timeline: Two Week Project
Upstairs Bathroom Remodel:
Above is the upstairs bathroom. We remodeled both bathrooms in the summer of 2017. The upstairs bathroom had an existing shower unit with brass trim. We replaced this with a new cultured marble glass shower surround and added new shower fixtures.
For an updated look, we removed the existing vanity top in the bathroom and installed a new vanity top with a new faucet. The upper vanity cabinet was removed, saved, and then reinstalled after the vanity top had been installed.
Chuck and Dawn wanted the light fixture updated as well, so we replaced it with a new light fixture.
To match the new style, we replaced the tub faucets as well. The appliance selections were made at Ferguson's. Check out their products to gain project ideas!
Downstairs Bathroom Remodel:
The downstairs bathroom remodel also provided a good opportunity to update the home. We removed the existing wall paper and repainted the bathroom to a light blue. Given a few pieces of the original flooring strips, we matched the flooring and installed it to match the rest of the house. We replaced the sink vanity and light fixtures and also installed a new toilet.
The painting on the wall has a unique story special to our clients. Chuck and Dawn had purchased the painting at an auction in 1991. The artist is Richard Farrell. He had painted a landscape of a nearby church. Chuck and Dawn saved the painting knowing that one day they would have the perfect location for it. While remodeling the bathrooms, it became apparent that the saved painting matched the downstairs bathroom color scheme very well. Dawn had the painting repurposed with new matting put around the border. Now the painting is serving its purpose on display in the newly remodeled bathroom!
Bathroom Remodels
The benefits of going ahead and deciding to do a bathroom remodel actually outweigh the things that are easy to feel hesitant about in these type of projects. Bathroom remodels are not too lengthy of a project. Compared to other types of projects, bathroom remodels can be one of the quicker projects to accomplish. This makes bathroom remodels a good option for someone wanting to update an aspect of their home giving a fresh look to the interior of their home.